The Tinguely Museum in Basel, Switzerland is a museum based on the artwork of Jean Tinguely. The majority of Tinguely's work was artistic machines, bringing together art and industry during the 1970's.

In 2013, the museum curated an exhibit of the interaction of art and technology in the modern age. Each artist created an interactive exhibit that used modern technology, otherwise none of the artist's work were related.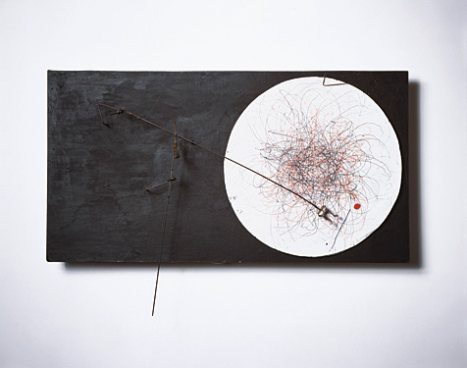 Using Basil JS, a form of javascript that works directly in InDesign, we made a poster that essentially made itself.  
The script randomly selected: the font face, the font size, the colors, and  font placement for the artist names, dates of the exhibit, name of the exhibit and the museum website
The script randomly placed the words of a sentence on the canvas, if the user followed the lines connecting the words, they would be able to read a one sentence summary of the artist's individual exhibit. 
This "scribble" had visual similarity to the artwork that Jean Tinguely's original drawing machines. An extra nod to the inspiration of the exhibit.
By request of the curator the names of the artist became the main focal point of the poster for the second round of iterations.